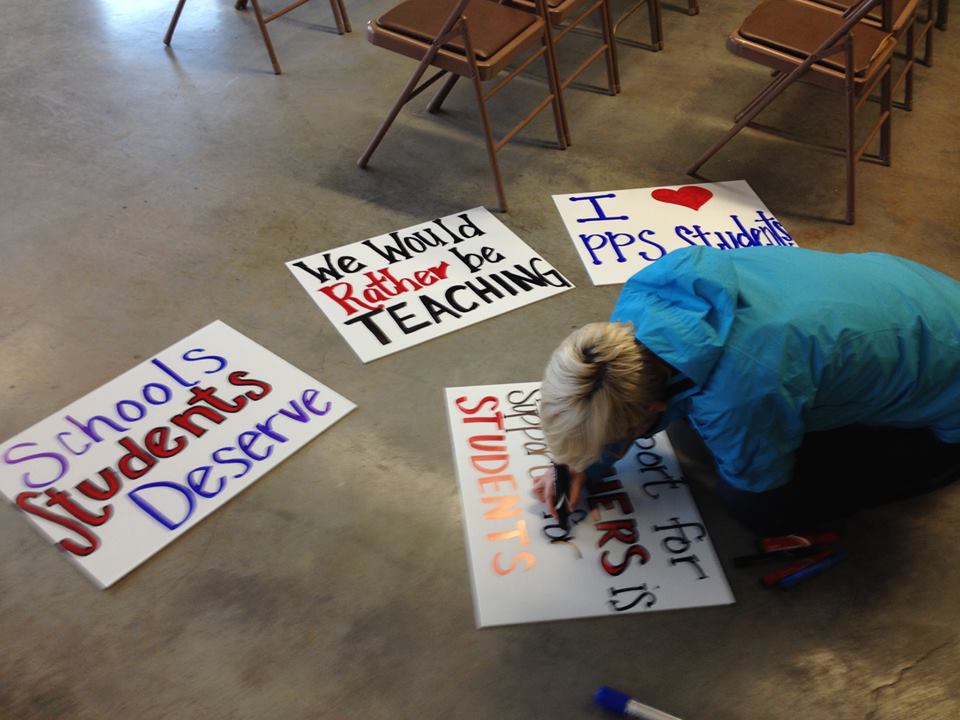 Emotions are sizzling in Portland as the public school teachers–including my brother and sister-in-law–go on strike next week. Eeek.
Overpaid whiners? People actually write that? In public? These days? Eeeek.
I've worked with so many amazing educators–classroom teachers and librarians–in the past 10 years.  And of course I am a teacher. I'm on the faculty of Vermont College of Fine Arts in the MFA program. 
I started my adult life as a teacher of writing in an alternative school–here are some of my students cooking up something to write about. And what I know is that teaching is hard. Exhilarating. But hard.
So much of what people think they know about teaching and learning comes from their own days as a student or from what seems as if it would make sense. Learning to read, for instance, seems to be a matter of associating sounds with letters…and for many (most?) people it does start that way. But everyone who has watched a person start to read knows that something mysterious happens, too. Skillful readers look at black marks on a white page and somehow absorb a lot of information in a flash–including context clues having to do with pictures and the other words in the sentence–that allows them to recognize words and also infer what's beyond the words.
Brain research shows that information that comes associated with emotion tends to stick.  Stories, anyone?
And yet a lot of educational policy is constructed as if teaching and learning were simple. As if it didn't take innovative, thoughtful, patient, hopeful people with lots and lots of different skills and the willingness to try and adjust and re-try and be kind in the process.
My brother and I have taught together, done author visits together, taken teacher groups to Ethiopia to share skills and ideas with educators there. I trust him to make learning interesting and fun.  I know him to be someone who never stops thinking about how to be a better writer, a better reader, and a better teacher.
Great educators–like this Kansas librarian who has helped with Ethiopia Reads and with the research for Anna Was Here–know books and know kids and know how to connect them. They know what's working and what isn't in schools. Are we listening?
As an Oregon parent wrote in her blog, it's great to have lots of ideas about how to make things better for kids in school everywhere. "However, no matter how we envision public education in this country, one thing seems obvious to me: teachers are the heart of our system. If you've gone through school—any school—you know this is true: for a student, a good teacher can make any school situation bearable, and a bad teacher can mar the best of institutions. You can have all the 'extras' you want: money for athletics, art programs, and gyms, and even a healthy budget (what's that?), but if you don't have well-qualified, talented, inspired, and happy teachers, you have nothing." http://amywhitley.wordpress.com/2014/02/14/medford-oregon-teacher-strike/
Parents, teachers, grandparents unite! If we don't have good teachers who are given reasonable resources and who are given room to do what they know how to do well, we don't have anything!