Award-winning author Jane Kurtz has published more than 40 books—fiction and nonfiction, picture books and novels. She grew up mostly in Ethiopia where she now does a lot of volunteer work for helping kids get books. She also is on the faculty of the Vermont College of Fine Arts MFA in Children's and YA Literature where she works with adults who want to become professional writers.
Jane has written extensively about her life and books in a resource for educators Jane Kurtz and You. She also answers questions about her childhood, her books, and family on her FAQ page.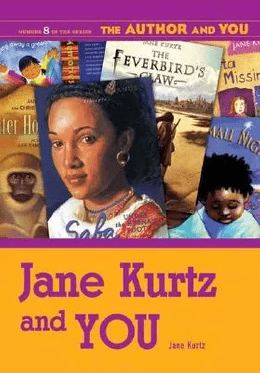 Jane Kurtz was born in Portland, Oregon, but when she was two years old, her parents moved to Ethiopia. Jane grew up in Maji, a small town in the southwest corner of the country.
Since there were no televisions, radios, or movies, her memories are of climbing mountains, wading in rivers by the waterfalls, listening to stories, and making up her own stories, which she and her sisters acted out for days at a time. When she was in fourth grade, she went to boarding school in Addis Ababa. Her family left Ethiopia in the late 1970s, but a decade later, first her brother and his family and then her older sister and her family went back to teach in a girls' school in Addis Ababa. By the time Jane came back to the United States for college, she felt there was no way to talk about her childhood home to people here. It took nearly twenty years to finally find a way – through her children's books. Now she often speaks in schools and at conferences, sharing memories from her own childhood and bringing in things for the children to touch and taste and see and smell and hear from Ethiopia. "It's been a healing and inspiring experience," she says, "to re-connect with my childhood and also be able to help people know just a little of the beautiful country where I grew up."
She is a co-founder of the nonprofit organization Ethiopia Reads that works to bring books, libraries and literacy practices to the children in Ethiopia. After fifteen years on the board of directors of Ethiopia Reads, Jane saw a crucial missing piece of the literacy work and turned her volunteer effort to heading the Creative Team of Ready Set Go Books, a project of Open Hearts Big Dreams. In late 2020, the team reached a goal of publishing 100 colorful books—fiction and nonfiction—each available in English and various Ethiopian languages. These books are available online and, as funding becomes available, printed and distributed in Ethiopia, providing reading practice and spreading knowledge of the daily life, geography, history, stories, proverbs and cultural traditions of Ethiopia.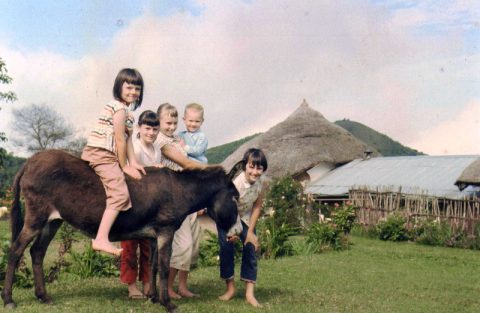 Jane's career as a writer began with the publication of her own books. She soon turned to stories that incorporated many of her childhood experiences. E. B. Lewis illustrated Jane's first Ethiopian story, Fire on the Mountain. He used photographs that Jane sent him and photographs which he took of Ethiopian families in his home city of Philadelphia to help him create the illustrations in the book. When Jane's brother came back from teaching in Ethiopia and told her about the street boys who taught him to raise pigeons, she and her brother, Christopher, wrote Only a Pigeon – a book that was published in spring 1997. Earl (E.B.) Lewis and Chris Kurtz traveled to Ethiopia in 1995 so Earl could do the art research for the story. Floyd Cooper illustrated the second story, Pulling the Lion's Tail, using photographs and his own imagination to make the story of Almaz come to life.
After the publication of her first books, Jane went on to publish fiction and nonfiction: picture books, novels for young readers, and ready-to-read books as well as a few resources for educators. She has drawn on her classroom experience (elementary and high school) for many years of author visits in all but a handful of the United States and in Africa, Asia, the Middle East, and Europe. During that time, she also taught writing at the University of North Dakota for ten years and then joined the faculty of the Vermont College of Fine Arts MFA in Children's and YA Literature. After living in North Dakota and Kansas, Jane moved back to the city where she was born, Portland, Oregon, where she lives with her husband Leonard.
---
Follow Jane and her travels and her family's literacy experiences on her blog – The Power of One Writer.
---
VERMONT COLLEGE OF FINE ARTS: A few years after the first MFA program in the country to focus exclusively on writing for young readers, was established in 1997, Jane Kurtz was invited to join the faculty. She has being involved in the program every since. The students in this program come to campus in Vermont twice a year to participate in an intensive residency. One-on-one mentorships are established with faculty and the dialogue between faculty mentor and the student mentorees continue throughout the year as the students engage in bringing focus on their own area of interest. As part of this program, Jane has worked with such talented students as Cate Berry, Yamile Saied Mendez, Suma Subramaniam, Sue Schmitt, Meghan Browne, and many more. Helping other writers explore the best way to tell their stories is just one more way that Jane Kurtz has found to spread literacy among children and adults.