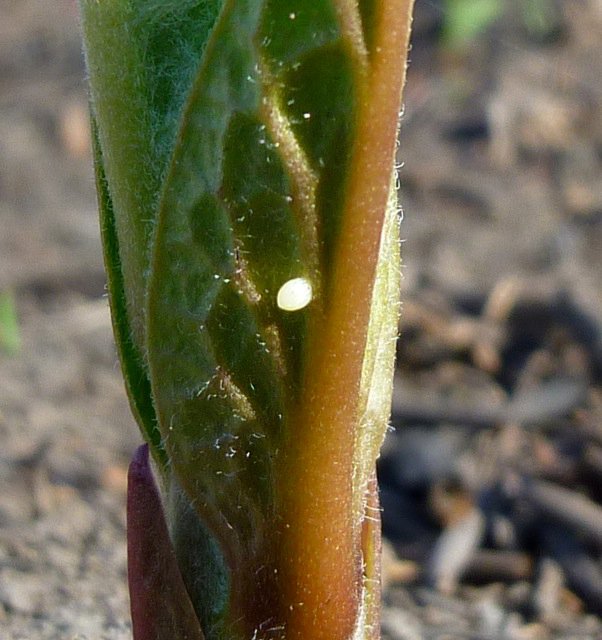 When I was asked to write the books for the 2010 Doll of the Year, American Girl flew me to Wisconsin to brainstorm about the theme–something related to saving the earth. American Girl talks about keeping things "girl sized." As I searched my brain cells for images of myself as a girl Lanie's age, spending my days outside in Ethiopia, what came popping back most vividly were plants, frogs, and butterflies. This is a picture of monarch eggs–just one of the things I ended up learning a lot about as I wrote my story.
When I was Lanie's age, I spent part of the year with those plants and frogs and butterflies in Maji but part of the year in boarding school in Addis Ababa, where I entertained myself here on this big campus riding my bike or pretending I was a horse running, swishing through the grass..
As I started doing my research for Lanie's story, I discovered kids outside…making a difference for the earth: creating backyard habitat, doing citizen science and becoming part of the team to save monarch butterflies. We start with what fascinates kids–which is what I love about Toby. 
Here's my interview with VCFA grad, Stacy A. Nyikos. When she was a student at Vermont College, we connected as Midwest writers. But–as I tell young writers–being a reader or a writer means you can go anywhere in your mind.
Q: You and I met a Vermont College of the Fine Arts when we were sort of neighbors–Kansas and Oklahoma. My latest book is set in Kansas, but Toby is definitely not set in Oklahoma. Will you share a bit of what it's like to write a story that isn't set in your own back yard?
A: True Confession? I've been sneaking out of my own backyard every since I was little. It all started when I was three. My mom was busy. I was bored. And my parents were big proponents of making your own fun. So I put on my best (slightly wrinkled) dress and followed the neighbor boy to the local high school. I had an amazing adventure! And after they reached my mom and she came to get me, I got to go to preschool. I guess my parents decided to help direct that whole "making your own fun" thing. Preschool was A LOT more fun than my own backyard. Maybe that's why I'm drawn out of it so often. I know there's an adventure waiting for me somewhere.
Q: Ever since writing Lanie, I've had a great fondness for books that relate to kids making a difference by connecting with the earth. Is it just me thinking that Toby is another one of those books?
A: You nailed it! Toby is another one of those "connect to change" kind of stories. Kids love animals. And they're so curious. My hope is that the story of a sea turtle's adventures and struggles will create an emotional interconnection, and kids will cherish and care for these animals in that big-hearted, no holds barred way that kids have.
Q: It would be fun to see Toby paired with my friend Mary Casanova's Utterly Otterly Day. I was with her when she was struggling with the rhymes for that manuscript. Was it hard to find your Toby rhymes? Do you have one you MOST love to read aloud?
A: Rhyming is a game of literary chess. Finding the right way to express an emotion, a situation, an action is already a challenge, but to do that AND make it rhyme. I got kinda Shakespearean on my family some days, talking in rhyme. I guess that's like an actor never breaking character, but I think it got a little old for my kids. Still, my favorite stanza is still the first. There is that anticipation of action, followed by fun action.
In a sandy little nest
With a happy little shout
Toby broke apart his shell
And…
Kerploppled headfirst out.
Q: A turtle's quest for the sea and an author's quest to get books into the hands of readers strike me as somewhat similar. What's the most fun thing you've done or are doing as you dodge your own birds and crabs and crocs?
A: Connecting with readers is the most fun thing I do. I talk shop with librarians and book buyers at conferences, such as BEA, coming right up–May 28 – June 1. This year I'll be there signing for Toby!  Stop by and see me. I do signings at bookstores, such as Full Circle Books, my local indie store.  And then there are school visits. I love the energy, enthusiasm and wide-eyed optimism that kids bring to the world each day. If I could see the world through a kids' eyes every day, it would be a wonderful life. To them, the world is filled with adventure and possibility. So yeah, connecting with readers, that not only keeps me going, it makes my day.
Q: I was charmed by the illustrations in Toby. Tell us a bit of story about how words and text found each other and got so beautifully meshed.
A: Shawn Sisneros is one of my most favorite illustrators. Shawn studied art at the School of the Art Institute of Chicago. We work as a team, which isn't always the case for authors and illustrators. I love it because Shawn makes my writing better. He'll tell me when a passage isn't working, or that I've got too much illustratable action in a scene, can I pare it down to the most important. And it works vice versa. When he's having trouble with a scene, we talk through it, looking for the most illustratable moment and how to make it happen. And then there's the joy of seeing Shawn take my words and make his own visual story out of them. The text gets better through his interpretation and becomes a new story with more depth and discovery.
Q: Did you take the picture book semester while you were at VCFA? Did you work on picture books there? So many VCFA students are working on YA novels that I'm tickled to see two fun new picture books by a VCFA grad!
Q: I almost took the picture book semester, but I chickened out! I didn't think I'd be able to write THAT many picture books in a six month stretch. Picture books are my guilty pleasure. If I'm knee deep in a year-long novel, and some plot line or character is giving me trouble and I don't know how to go any further, that's usually when a picture book idea comes to me. I divert from the sodden path I'm on, work on the pb, getting off some pent up creative energy, and usually, by the time I'm done, have a working draft for a new picture book and a solution to the novel problem. So, I don't ever know when a picture book is going to pop by and play, but it's fun every time they do.
Thanks again to Stacy Nyikos for appearing.  For other stops on the Toby blog tour please check http://www.stacyanyikos.com/blog.html