I know to my bones how important it is to be humble and playful as we dance up to the cultural divide and stare over.  Respectful curiosity goes a long way. Calmness goes a long way.  Hubris is a good thing to leave behind.
The community of third culture kids is deep and wide with many things to separate us from each other–but I've never met another third culture kid who didn't seem a lot like me.  And when we talk about respect for other cultures…well…I think that's really important, of course. But I also think there is a culture of women around the globe. There is a culture of readers and writers and artists.  We  have lots of common ground.
This is an Ethiopia Reads school being built.  It's a great image for how I feel as I set out for Odyssey II.  Precarious. Hanging on the edge. But aware of those holding my hand.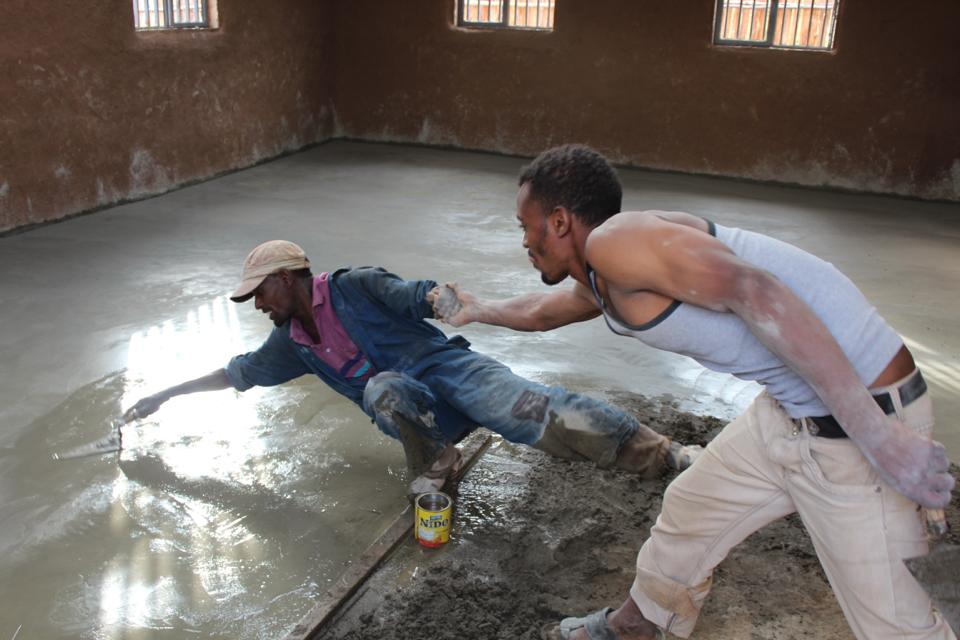 Three writers (one who is pretty good in Amharic), two American painters, an amateur photographer who wants to help document the trip, two Ethiopian painters…we're going to see what we can do to create our own art together but also to start creating a body of simple, playful, culturally appropriate, local language books that can go into the schools and libraries where Ethiopian kids are just learning to read.
Stephanie Schlatter, the American artist here, has done a lot of art work with kids in Ethiopia.  As she and I have discussed, visual art dodges the language question that is so hard as we struggle with sharing books.  I believe we will find the shared language of art on this trip and we will come back changed…if nothing else from a week lived off the electric grid.
Tough team.  Watch this space for more!