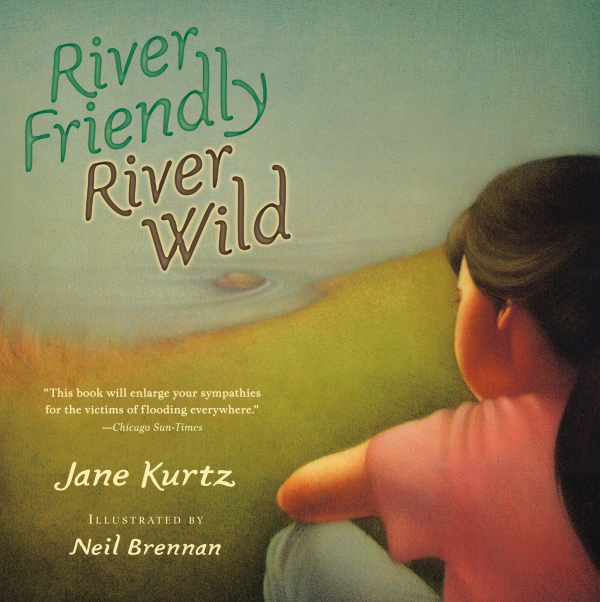 River Friendly River Wild
Written by Jane Kurtz
Illustrated by Neil Brennan
Simon & Schuster, 2000
40 pages
Ages 4-10
ISBN: 978-1-416-93487-5
In searing personal poems, Jane Kurtz explores what it's like to struggle through a flood and pull your life together afterward. Inspired by Kurtz's own flood experience, this tale is realistic and unforgettable. Not just a moving story of one girl's courage, River Friendly, River Wild is a tribute to everyone who has ever faced great loss.
2000 Golden Kite Award Winner (Picture Book Category)
"The river wiggled/ like a fat brown thread/ along the flat quilt of the Red River Valley," begins this detailed, powerful cycle of poems describing how a girl and her family–like Kurtz (I'm Sorry, Almira Ann) herself–survived the disastrous 1997 Red River flood (near Grand Forks, N.D.). When "spring creeps into the city/ one toe at a time," a surprise April blizzard hits; soon, its fast-melting snow makes "the river wild." Moving to a shelter for what they anticipate will be only a few days, the narrator and her family leave their cat at home with plenty of food. A poem titled "Ocean of Feelings" sparely chronicles the girl, imagining the cat "in our island house," watching TV with her family in a "borrowed" home and seeing city buildings burn. Brennan's (Let's Go to the Petting Zoo with Jungle Jack) paintings are sophisticated and artistically rendered … a painting of the burning buildings when "fire tongues lick the sky" and the illustration of headlights fleeing on a dark street amplify the emotional intensity of the book."
"This collection of poems tells of a child's experiences during a flood that sweeps through her town, forcing families to evacuate. The unnamed girl describes the creeping water, the hard work of making sandbags, the wrench of being forced to leave her beloved cat, and the crowded shelter where they watch the devastation on TV. While her Mom spends the next few weeks making "—lists/of everything she might have lost," the child worries about her pet.
When they can finally return to the town, they drive past piles of sodden belongings and houses made dangerous by flood damage. To the child, the missing animal represents all she has lost, just as the unexpected finding of three intact glass Christmas tree angels represents survival to her mother, and foreshadows the eventual return of Kiwi, who has been rescued by a neighbor. The illustrations, done in oils overlaid with layers of oil glazes, are glowing and paradoxically warm, showing the devastation of the flood while managing to soften and mitigate its harshness. Portrayals of the family and the neighborhood emphasize closeness and working together, underlining the message of community and cooperation. "This was one terrific neighborhood," says dad, and as the family prepares to "make new memories" and stick together "wherever in the whole world we are," the words overlaid on a palely drawn but identifiable glass angel reassure readers that despite natural disasters, families can survive."
River Friendly, River Wild tells of a flood caused by natural causes. Jane Yolen has written a book, Letting Swift River Go (illustrated by Barbara Cooney), that tells quite a different story about a flood created intentionally and the toll that flood took on another community.
After reading River Friendly, River Wild and Letting Swift River Go, compare and contrast the communities in the aftermath of the floods described in the books. Compare the children's experiences with watching their homes destroyed in the Red River Valley to those of the young girl who watches her town become a watery wilderness as the government floods entire towns of Western Massachusetts to create the Quabbin Reservoir.
Read about another flood in Mary Calhoun's Flood. This book tells the fictional account of a young girl's home and its destruction during the 1993 Mississippi River flood.
For more information about the Red River flood, read: Faces of the Flood: Manitoba's Courageous Battle Against the Red River by photographs by Tom Thomson.
For another account of a flood read Come a Tide by George Ella Lyon with illustrations by Stephen Gammell. Come a Tide has been described as a young girl's account of the spring floods at her rural home. Compare and contrast Come a Tide with the story Jane Kurtz told through her poems in River Friendly, River Wild.
On April 17, 1997, my birthday, my family and I evacuated our house on Lincoln Drive to the house of some friends in the south part of town.
Many households and businesses were able to bounce back fairly quickly from the flood. Neighborhoods close to the river, though, were pretty much wiped out. Houses like this one, down by the dike, were up to their rooftops in water, and most of our old Lincoln Drive neighborhood will soon be gone.
We took a bag of clothes, each, thinking we would be back home within a couple of days. I also took a few of the things I share with school kids, since I was scheduled to go to one of the Grand Forks elementary schools the next day, where students were going to show me the illustrations they did of Trouble before the book came out. Two days later, on our oldest son's birthday, a knock came at 2:00 a.m. and our family had to evacuate for a second time. This time, we drove through the night to the little town of Walhalla, North Dakota, and slept in the church where my husband had been doing some work three days a week.
Two things that survived the flood were the family cat and a nativity scene, both treasures that are cherished.
In the early summer, this was the view from our front porch–sandbags and trash lined all the streets. As things turned out, our family did not get back to our own house for about a month. David, Jonathan, and Rebekah finished school in Walhalla. I sat in the basement of a borrowed house and worked on revisions of a novel, Storyteller's Beads.
I also started to write poems about what we were going through. I focused on some of the same advice I give to students about their writing:
Look for the details that really show what an experience is or was like.
Use the five senses.
Find unusual comparisons that will help pull the reader into the experience in unexpected ways:
The little square machine with a wide mouth scooches along and picks up refrigerators and stoves. The big machine with a long neck lumbs and swings and nudges garbage into the street and picks it up in its teeth.
Readers will recognize the sights and sounds of this huge yellow machine in a poem "The Most Terrible Part" which was included in River Friendly, River Wild I kept writing all through the mucky, yucky clean-up and all summer, while my family and I camped in-between the upstairs of our old house and a FEMA travel trailer parked in the driveway. In the fall, my editor at Simon & Schuster read my flood poems and liked them.
Three years after the devastating flood the poems I wrote became a published book, River Friendly, River Wild. Something good had come out of the turmoil.