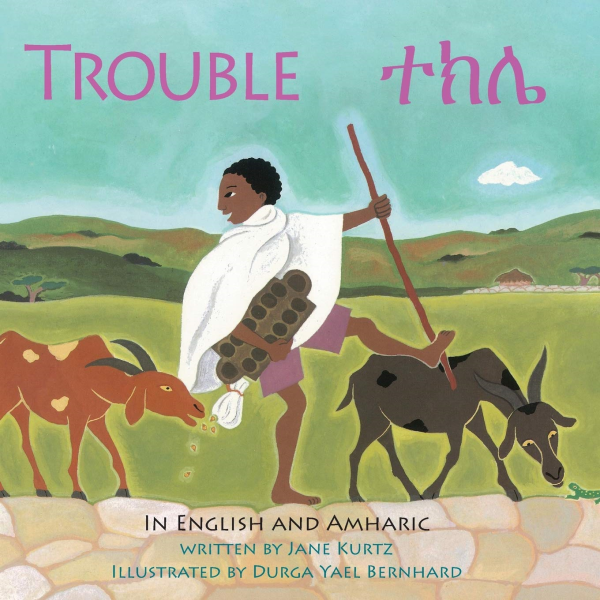 Discounts available for bulk orders, educators  and organizations. Send an email Ellenore Angelidis for more information.
A Junior Library Guild Selection
Written by Jane Kurtz
Illustrated  by Durga Bernhard
Gulliver Books, 1997
Ages 4–8
40 pages
Paperback ISBN: 978-0-15200-219-0
A story based on a tale told in northern Ethiopia and Eritrea about a boy who keeps getting into trouble. His father finds the solution: a gebeta game. When Tekleh seems not to be able to stay out of trouble, his father gives him a gebeta board. While Tekleh spends the day caring for the goats he encounters several groups of people. He trades his game, first for a knife, then a musical instrument, a drum, a bag of corn, and a papaya. Finally he trades for another gebeta board. When he returns to his unsuspecting father, his father is convinced that the game has sheltered his son from harm. Bernhard's illustrations are created in gouache, opaque watercolors, with warm earth tones as prominent colors.
Now available as a bilingual edition (English and Amharic) as part of the Ready Set Go Books publishing initiative of Open Hearts Big Dreams.
Video: E Is for Ethiopia Author Read Aloud
Trouble by Jane Kurtz
"… this will be useful for classes studying Africa, Tekleh also has a universal appeal that should be popular with young listeners everywhere. Appended with source notes and a glossary of foreign terms."
"From Kurtz (Miro in the Kingdom of the Sun, 1996, etc.), the lively Eritrean story of a young boy with a magnetic attraction to trouble. An author's note discusses the story's origins; Bernhard's illustrations provide an enchanting window into the culture and people of Eritrea. (map, glossary)."
"Tekleh's father believes that giving his wayward son a new game–a gebeta board–will keep him out of trouble. Tekleh's journey proceeds from left to right in the flat, earth-toned paintings, encouraging readers to turn the pages of this humorous Eritrean tale."
Compare and contrast the version of this story that is told in Trouble to a more traditional version in the book Fire on the Mountain, a collection of folktales gathered by Harold Courlander (Henry Holt, 1950).
The illustrator, Durga Bernhard, has spent time in several African countries. Look at some of her other books, such as Just Like Me Climbing A Tree and the book she created for Ready Set Go Books, Yaya, Come Here!, set in a village in Guinea, West Africa. What similarities and differences do you see?
The artist has also slipped in all kinds of visual jokes and bits of information (for example, a map at the front so you can follow Tekeleh's travels). On the cover of the book, do you see two spots of trouble? No, one of them isn't the goat sniffing the lizard.
Read more about the illustrations for Trouble below in the Authors Notes.
Folktales where something gets traded for something else are pretty common. Compare and contrast these two stories with Trouble:
Author's Note about the Illustrations
The artist for Trouble, Durga Bernhard, has slipped in all kinds of visual jokes and bits of information (for example, a map at the front so you can follow Tekeleh's travels). On the cover of the book, do you see two spots of trouble? No, one of them isn't the goat sniffing the lizard.
Folktales where something gets traded for something else are relatively common. Two you might wish to locate include This For That by Verna Aardema (Dial) and The Jade Horse, The Cricket, and the Peach Stone by Ann Tompert (Boyds Mills). Compare and contrast the similarities and differences between those two stories and Trouble? Actually, the ending of the Eritrean folktale is somewhat unusual for this type of story. Can you explain why?
In visits to schools, Jane shows how many things from her books come out of her real life. For example, she sometimes shows students a picture of herself as a girl with a dik-dik that she and her sisters were able to keep as a pet for a little while. "The memory of that shy and delicate animal stayed with me," she says, "and I loved being able to put it in one of my books."
Mapping a Changing World by Yvette La Pierre (Thomasson-Grant & Lickle) is a fascinating guide to how maps have changed over time. The book "introduces young readers to a host of wonderful–and sometimes whimsical–attempts to capture our world on a flat surface." Page 39 features an ancient map of Africa, with the legendary figure of Prester John on his throne in the region that is now Ethiopia.
In one of the schools where Jane was a speaker, the students had fun designing their own lizards to go along with her book, Trouble. There is an Ethiopian saying that goes something like this: "The lizard eats flies on the wall of the house of the rich man and poor man alike." Can you tell what the proverb is trying to express? Collect wise sayings from as many different countries as you can find.
Africa
(Eyewitness Books) by Yvonne Ayo (Dorling Kindersley) has a good photograph of a mancala game, as well as other interesting photographs of things from Africa. Learn more about versions of the gebeta (and mancala game) played throughout Africa by reading the next section.
More About Gebeta (Mancala)
Wooden boards are usually used to play Mancala games. The board has rows of cups or holes which contain seeds or similar pieces. Most often there are 2, 3, or 4 rows of holes and generally two players. The board is placed so as each player looks at the board, the rows of holes run from left to right, not up and down. A variation of the game from East Africa, Bao, is generally considered the most complicated of the variations. There is a modern version which has been invented in the last few decades. One of these games is "Cups" by Arthur and Wald Amberstone. Directions for this game are included in Sid Sackson's book A Gamut of Games (Nelson, 1969). A more recent book, The Complete Mancala Games Book by Larry Russ (Marlowe, 1999) will contain addition information about many of the variations. The picture to the right shows Men in Malawi, playing a variation of the gebeta game.
Those wishing to learn about Omweso, the Royal Mancala game of Uganda, may wish to visit Omweso-Mancala World at http://mancala.wikia.com/wiki/Omweso – a little bit of history, basic rules, and selected links.
Learn about hundreds of variations by reading Paul Smith's article MindZine: Mancala Games.
A list of the many name variants of Mancala.