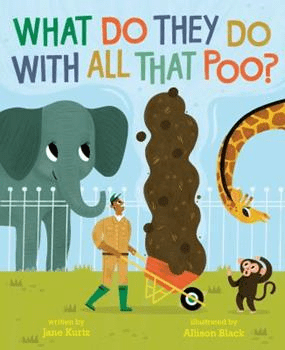 What Do They Do with All that Poo?
Written by Jane Kurtz
Illustrated by Allison Black
Beach Lane Books | Simon & Schuster, 2018
Reading Level: Ages 3–8
40 pages.
ISBN: 978-1-481-47986-8
One reviewer writes, "Yes, this book is hilarious, yes it's educational and even better it merges the line between toddler and older kid books by having two versions in one." In this nonfiction picture book, rhyming text can be read as a stand-alone story. In addition, older students, educators, or parents can read the accompanying facts on each page that add background information on animals, their scat, and the management of poo in a zoo (or in many other places where animals and humans share space).
What Do They Do With All That Poo? has been used widely in classrooms and libraries to show science at work in our everyday world, to explore the nonfiction writing process, and to simply delight young readers. A librarian who used it as an all-school read writes, "I can't express how much I enjoyed reading your book last week. Students that have barely participated all year, were completely engaged in this lesson. They LOVED it!"
Vocabulary: One reviewer (from Kirkus Reviews) called this book a "scatological success." Question: What does being "a scatological success" mean? 
Jane Kurtz talks about the idea that paper is sometimes made from the poop of elephants. Watch the video and discuss the following:
Discuss why the fact that being vegetarian makes it feasible to use elephant poop to make paper. What does being a vegetarian mean?
Where can one purchase paper made from elephant poop?

Another explanation of making paper from elephant dung (poop) is presented on the Poopoopaper.com site. Alternative Pulp & Paper Co., Ltd. (n.d.) From Poop to PooPoopaper™ – The Process.
Order a Elephant Poopoopaper Classroom Kit from Alternative Pulp & Paper Co., Ltd.
And on one page Kurtz speaks about the cube shaped poop excreted by wombats. That fact has intrigued readers as they wonder how does that happen – cube shaped? Now there is an answer. Helen Regan of CNN reports on a scientific report explaining how the cube shape comes about.
SOURCE: Regan, Helen. (2018 November 20) "Wombat poop: Scientists have finally discovered why it's cubed." CNN.
Read the latest research on wombat poo from ScienceAlert.
What Do they Do with All that Poo, read by Rachel who is the Mgr. of Sustainability for the Detroit Zoological Society.
Local Author Celebration Month: Storytime with Jane Kurtz 
Lisa, a lead zookeeper, teaches us what a zoo does with all the animal poo. Shown with permission from Metro Richmond Zoo.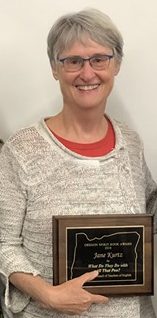 "There's quite a lot here to digest. In a mix of rhymed general statements and, in smaller type, pithy prose explanations, Kurtz drops nuggets of information about what poop is, how the excrement of a dozen types of zoo animals differs in shape and composition, what said animals do with their poop in nature, and the many ways zoos (and gardeners) study and recycle all those tons of "zoo-doo." She closes with the provocative observation that more intelligent and socialized primates tend to fling their poop with more accuracy than their duller cohorts—as, perhaps, "a form of communication and self-expression." Reflecting what young readers will be doing by this point, Black illustrates the author's final sally with a troop of heartily laughing monkeys. In fact, all the creatures in these brightly colored cartoon illustrations, even the earthworms, are smiling. So are most of the notably diverse cast of human workers (a few pooper-scoopers look understandably beleaguered), as befits both the topic and the tone of this fresh scoop on poop."
"At zoo after zoo / the animals chew. / And then … // they poo!" Quick rhymes in boldface type across the top make simple statements about each animal's toilet habits. 'Sloths creep down from trees to poop, / but only once a week.'...After exploring 12 different zoo dwellers, Kurtz then turns her focus to the large amount of poo that accumulates at a zoo every day. A scatological success." (Informational picture book.)
"Kurtz playfully delves into the diversity of dung found at the zoo in her latest picture book. 'A wombat's poo is cube-shaped, so it isn't very roly./Some snakes poop only once a year. They digest their food slooow-ly.'...young readers...should enjoy the topic and the book's light tone but, whether appreciative, awed, or grossed out, all will come away informed."
"This nonfiction read-aloud for the younger set will have kids in giggles. Each page features rhyming text that describes a different animal's waste product, with more information at the bottom of the page. ... The playful geometric digital illustrations pop with color and have a lot of kid appeal. ... kids will be having so much fun they won't notice they're learning. VERDICT A humorous addition to most nonfiction collections."
"These two authors are awesomely clever at giving young readers a lot of information while also giving them a very readable fun text to enjoy.Jane (Kurtz) writes about the droppings (otherwise known as poop, dung, scat, and so forth), the animals that leave this poo for the zoo to do something with.  Some poo is green, some droppings are in the shape of cubes, and others are like marbles.  And what do zoos do with all that poo? ..."
"Leave it to children's books to ask the tough questions, the ones that even adults wonder but might not be completely comfortable asking. Well, children are often pretty straightforward with their curiosity, so a new picture book written by Jane Kurtz and illustrated by Allison Black just might address what your child was wondering during your last trip to the zoo. What Do They Do With All That Poo? gives some basic answers and provides follow-up information that may even cause grown-ups to go, 'Wow!'"
Read the full review.
"We all know that I've got the sense of humor of a -year-old kid, so you know this book is a hit at home and in the library for me."
Read the full review.