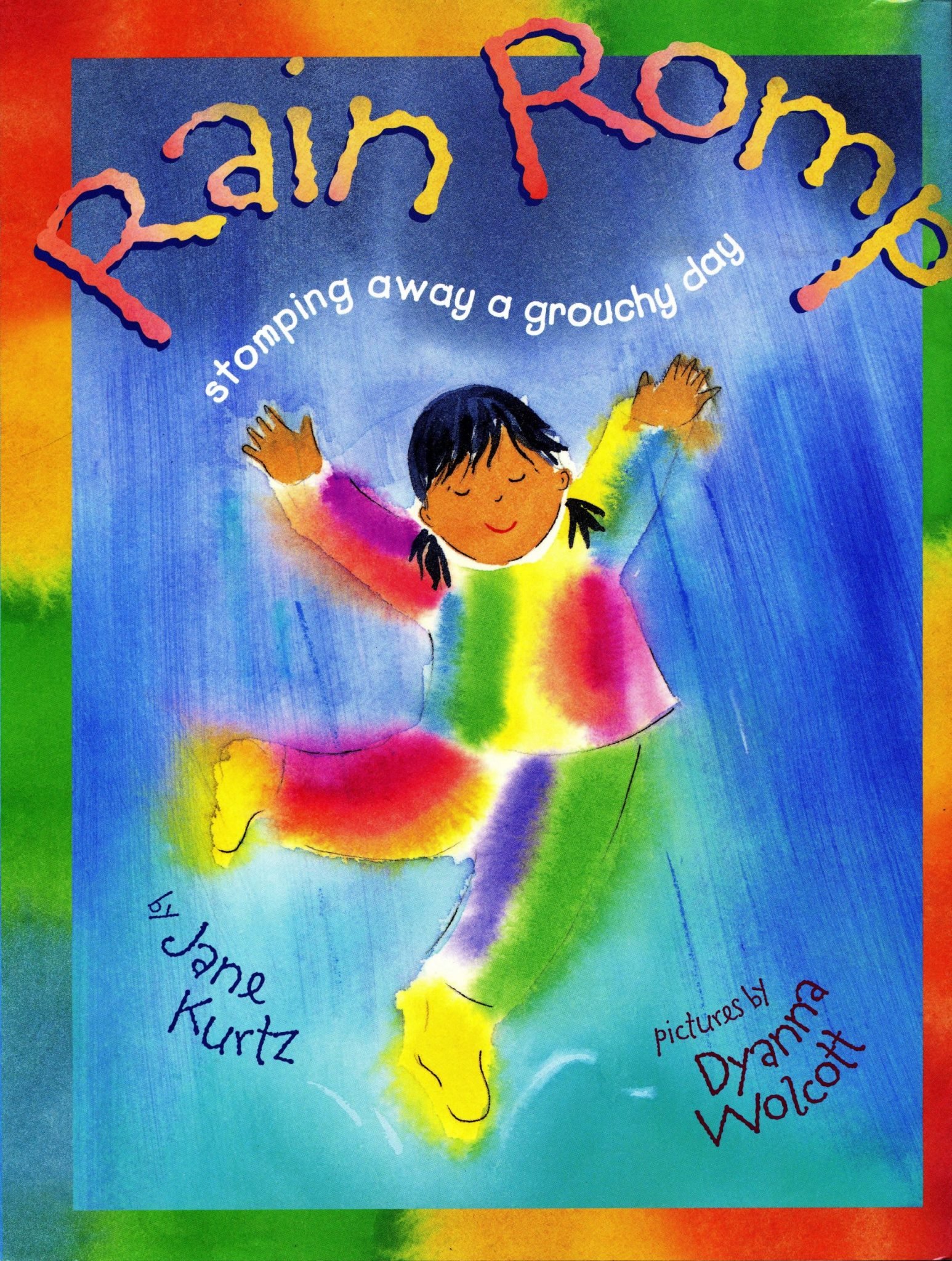 Rain Romp: Stomping Away a Grouchy Day
Written by Jane Kurtz
Illustrated by Dyanna Wolcott
Greenwillow, 2002
Picture book: 32 pages
Preschool and up
ISBN: 978-0-060-29805-0
On a gray day the heroine of this book feels every bit as grouchy as the cloudy, rainy, windy sky outside her bedroom window. There is no way that her all-too-cheerful Mom and Dad are going to convince her to get out of bed. Or is there?
How do you transform a stormy mood into a sunny one? This clever story holds the secret: a stomping, romping, wild dance that can make you feel like yourself again — and ready at last for smiles and giggles with the people who really do understand you after all.
"The simple, physical words and the vibrant gouache and watercolor illustrations express a broad range of emotions, and the poetic rhythm of this energetic story will ring true with many kids."
"How do you turn a grouchy mood into a joyful one? Jane Kurtz knows that there's nothing a loving, creative, and supportive family can't weather together."
"A romp in the rain [that] helps melt the grouchiness away. The bouncy rhyming text is set into great soaking splashes of color achieved with watercolors and gouache by Dyanna Wolcott."
"lyrical...[and] fabulous and just in time for our rainy season and the chance to stomp out our own bad moods."
Collaborative Reading Titles
Evans, Lezlie. Rain Song. Illustrated by Cynthia Jabar. Houghton Mifflin, 1995
Freeman, Don. Rainbow of My Own. Puffin pb, 1978
Hesse, Karen. Come On, Rain! Illustrated by Jon J. Muth. Scholastic, 1999
Stock, Catherine. Gugu's House. Houghton Mifflin, 2001
Yashima, Taro. Umbrella (Picture Puffins). Scott Foresman/Pearson, 1985
Toni Buzzeo has developed a script for LibrarySparks to be used for Rain Romp. The script may be reproduced for personal professional use in the classroom or library. Download here.