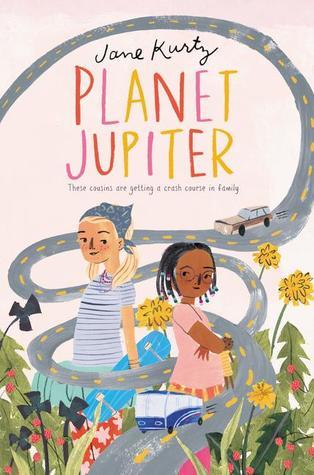 Written by Jane Kurtz
Greenwillow, 2017
288 pages
Ages 8 and up
ISBN: 978-0-060-56493-3
Jupiter is used to being a planet of one, and she likes it that way. But then a cousin, who Jupiter never even knew existed, comes from Ethiopia to stay for the summer, and Jupiter is put in charge of taking care of her. A lyrical and memorable story of family, friendship, and community—perfect for fans of Katherine Hannigan's Ida B and Holly Goldberg Sloan's Counting by 7s.
Jupiter and her family have spent their lives on the road, moving from town to town in a trusty old van and earning their living by playing music for tourists. But when their van breaks down, Jupiter's mother rents an actual house in Portland for the summer so Jupiter's annoying cousin Edom, recently adopted from Ethiopia, can stay with them. Luckily, Edom doesn't want to be in Portland any more than Jupiter wants her there, and the two hatch a Grand Plan to send Edom back to her mother. In the process, Jupiter learns that community and family aren't always what you expect them to be.
A sweet, genuine story with themes of community, immigration, finances, family, and taking care of the environment that will appeal to fans of Cynthia Lord and Lynda Mullaly Hunt.
"Jupiter has lived on the road her whole life, busking with her family as they drive in their van from town to town. But then a number of events knock Jupiter out of her orbit: the van breaks down; Jupiter's mom decides to settle the family in Portland, OR; and a newfound adopted cousin comes to live with them. It's all too much for Jupiter to bear, but luckily, her new cousin Edom isn't too keen to live with them, either. Together, the girls hatch a scheme to get what they both want: home. For Edom, home is in California with her adoptive mother, who has cancer; for Jupiter, home is on the road.
Naturally, the girls have a thing or two to learn about the definition of home (spoiler alert: it just might be where they are). There's also a cast of quirky secondary characters. The story does get bogged down with all its cuteness: Dad's cryptically clever postcards, Jupiter's jingles and her repeated metaphors about being named after a planet, Mom's budding romance with a family friend, just to name a few. But while the story can cross the line to Twee-ville, it manages to never loses its charm. The characters' growth is gradual, gentle, and believable. VERDICT Readers who reach the end of the journey will likely want to follow this unconventional but supportive family and community on further adventures. A solid purchase for larger collections."
"United in their determination to leave Portland, [Jupiter and Edom] hatch plans to earn money for bus tickets even as, despite themselves, they put down tentative roots...The vivid characters and fascinating urban village they inhabit . . . hold readers' interest throughout. A solid middle-grade family story."
"Playful yet introspective...Kurtz subtly conveys the girls' underlying fears of abandonment, as well as the idiosyncratic but determined efforts of Jupiter's mother and her friend Topher to provide a "forever family" for the children. A host of quirky and appealing characters rounds out this engaging, empathetic story."
"Fifth-grader Jupiter and her family are free spirits...Jupiter has a fresh voice that extols being unburdened, even as the story shows her that sometimes adding is better than subtracting."
"An offbeat look at an appealingly unorthodox lifestyle, and kids may find Jupiter diverting company."
"This story dazzled me with its originality, its voice, its witty dialogue. But as expected, it was the heart that sent me rocketing.  For as Jupiter allows herself to become vulnerable, as she begins to acknowledge her feelings of abandonment and communicates her desire to have more connectivity in her sphere, we too feel our world spin, our universe grow bigger."
Read the full review.