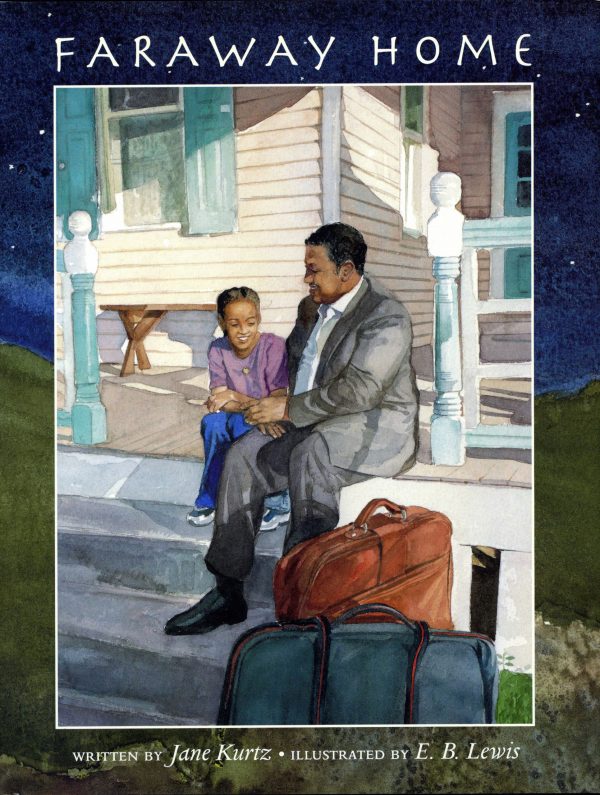 Written by Jane Kurtz
Illustrated by E. B. Lewis
Harcourt Brace, 2000
32 pages
Ages 4-10
ISBN: 978-0-152-00036-3
As her father prepares for a trip back to his childhood home in Ethiopia, Desta begins to worry. Where does her father truly belong—in the village of his youth or here in America with her? What was growing up in Ethiopia like? And will her father's love for his family be enough to bridge these two worlds and bring him back to her?
A powerful portrait of a contemporary American immigrant family by a Coretta Scott King Honor-winning artist.
Portrays a heartwarming father-daughter relationship.
"Lewis's (previously paired with Kurtz for Fire on the Mountain) luminous watercolors light up this warm tale of family ties and the tug of homelands left behind. When Desta's father receives word that his mother is ill, he determines to return to his native Ethiopia to visit her. He tells American-born Desta of Ethiopia's beauty, but she hears only the differences-dinners cooked in a firepit, a night wind that is often "cold as old bones" and that carries with it the howling of hyenas. "Your home is too wild," she tells him. Besides, she worries that he might not come back. Kurtz cuts right to the heart of a common childhood concern, giving the angst of separation a fresh twist with the exotic African destination. And in soaringly lyrical language, she paints a word picture of the Ethiopia where she herself grew up, a place where "shepherds pipe songs of longing in the hills, and thousands of flamingos flap in a pink cloud over the Great Rift Valley lakes." Lewis's brush is deft: in a series of tender character portraits he reveals the affectionate bond between Desta and her father, and he illuminates the contrast between the two cultures through his graceful landscapes. A haunting blend of the familiar and foreign."
"Desta's grandmother is ill in faraway Ethiopia, and her father must return to his native land to help out. As he cuddles his daughter on his lap, he describes the place of his birth. The child pairs his experiences with hers and wonders whether the cowbells he remembers sound like the wind chime on their front porch. The man's love and yearning for home is obvious, and the little girl worries that he may never return to her. Finally reassured that he will come back, she asks him so many questions about his childhood home that when he sings in his native tongue, she begins to see "-a pink cloud of flamingos rippling up from a dark blue lake-." Lewis captures the lyricism and rich imagery of the text with his evocative, realistic watercolors. Soft browns, blues, greens, and pinks predominate in paintings that flow to the edge of pages for scenes set here, and fade off into white for those set in the Ethiopia of memory and longing. Text and illustrations combine to immerse readers in the sights and sounds of the African homeland, and the beautifully crafted whole gives fresh meaning to the terms "family," "separation," and "home."
Diane S. Marton, Arlington County Library, VA
Compare the experiences/emotions surrounding "going home" and "returning" that are portrayed in Faraway Home with those in:
Jerman Disasa, my father's friend who is mentioned in the narrative about the background for this book, lives in North Carolina, but that's not where Desta and her parents live. Can you find clues to show you where Desta lives?
Ask the adults in your family (parents, grandparents, aunts and uncles, guardians) about what home was like for them when they were children. Perhaps they grew up in a different country or state from you. Certainly, they grew up in a different time! Can you list some differences between their childhood and yours?
E. B. Lewis's illustrations for the book include pictures of the night sky as a child in Ethiopia would view the sky. The night stars in the sky where you live will undoubtedly be different than those seen in Ethiopia. Study the star patterns on the cover and see if you can spot the differences between the night sky over Ethiopia and the night sky where you live.
Other Books with an immigration theme:

Downloadable Material
A Reader's Theater adaptation of Faraway Home (PDF). Source: Buzzeo, Toni. (October 2006). "Faraway Home: Reader's Theater". Library Sparks. p. 17-19.

In the late 1970s, about twenty-five years after they first moved to Ethiopia, my parents made the hard decision to move back to Portland, Oregon, in the United States. My brother Chris and my youngest sister, Jan, were still in high school, and the culture shock was hard for everybody. Around that same time (and into the 1980s), many of our Ethiopian friends also emigrated to the United States to escape the troubled times that had swallowed daily life in Ethiopia.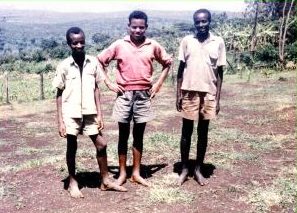 Many years later, my dad was visiting two of those friends: Jerman Disasa and Saagu Zelekeó and, Jerman told about how he had showed this picture of himself to his own children, growing up in the U.S. His son stared at the picture and said, "Why did you take off your shoes to go to school?"
That true story rattled around in my brain for many months, making me think about the gaps between parents who grow up in one country and children who grow up in another. One day, the idea for a story I called My Father's Wild Home popped into my mind and my computer. I worked on it for years before it became Faraway Home.
The father in my story reminds me of myself—how much I tried to help my own children see what Ethiopia was like and how impossible it is to completely do that. The illustrations in Faraway Home remind me of my childhood because E. B. Lewis painted the scenery from some of the photographs he took when he visited Ethiopia in 1995. Every detail is right. Even the night sky shows stars that a child in Ethiopia would see.