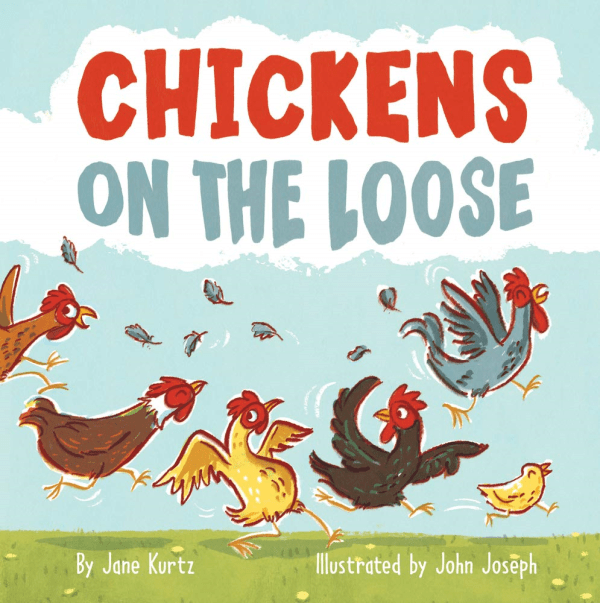 Written by Jane Kurtz
Illustrated by John Joseph
West Margin Press, 2021
32 pages
Reading Level: Ages 3–8
ISBN: 978-1-513-26724-1
A happy-go-plucky rhyme adventure of chickens frolicking in an urban environment as they run rampant all around town!
Chickens on the loose.
Chickens on the lam.
Zipping from the yard,
As quickly as they can.
Chickens don't just live on farms―they're in the city too! In the store, on the street, they bring mayhem and excitement to all the surprised people. See where these mischievous chickens go in this brightly illustrated picture book told in verse. Also included at the back are fun facts and tips for the urban chicken farmer.
"It's chickens gone wild, y'all! Jump in and join the fun!"
—Kathi Appelt, Newbery Honor Winner
"Chickens on the Loose is a rollicking, rhyming, race through town that will have young readers giggling, and wishing for feathered friends of their own!"
—Liz Garton Scanlon, bestselling children's book author
"In jaunty pitch-perfect rhyme and splendiferous, chaotic color, Jane Kurtz and John Joseph combine forces to tell the story of recalcitrant urban chickens who burst forth from forced chicken coopery to explore a lively, diverse neighborhood rich with thrift shops, yoga studios, food carts, pet shops, and street art–all free for the pecking. At the end of an energetic day, the chickens-on-the-loose return to their henhouse, bedraggled but with plans for a rerun! Prepare for a rambunctious reading experience."
—Toni Buzzeo, Author of 28 picture books for children, including the 2013 Caldecott Honor Book,
One Cool Friend
""Frolicking to the lively text, this flock of escapees nearly flap right off the page! Hilarious!"
—Tara Nickerson, writer, (VCFA), contributor
Chicken Soup for The Kid's Soul
The Story Behind Chickens on the Loose