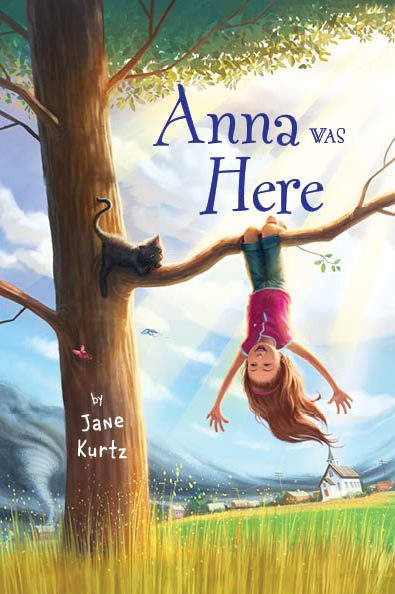 Written by Jane Kurtz
Greenwillow, 2013
288 pages
Ages 8 and up
ISBN: 978-0-060-56493-3
Ten-year-old Anna Nickel is moving from Colorado to Kansas, and she is not happy about leaving her friends behind! This is a moving, often humorous coming-of-age story about family, faith, God's love, and the meaning of home, perfect for fans of Katherine Paterson and The Penderwicks. Ten-year-old Anna Nickel's worst nightmare has come true. Her father has decided to move the family back to Cottondale, Kansas–where he grew up–in order to become the minister of the church there. New friends, new school, a new community, and a family of strangers await, and what's even worse, it's all smack-dab in the middle of Tornado Alley. Anna has always prided herself on being prepared (she keeps a notebook on how to cope with disasters, from hurricanes to shark bites), but she'll be tested in Cottondale! This beautifully written novel introduces a family who takes God's teachings to heart while finding many occasions to laugh along the way, and an irrepressible and wholesome ten-year-old who, with a little help from Midnight H. (her cat), takes control of her destiny.
Articles, Interviews, and Resources
Nominated for the 2015-2016 South Carolina Children's Book Awards [Nominee list] 
"In the vein of books like Sydney Taylor's 'All-of-a-Kind Family' series, Kurtz delivers a gentle, optimistic story about a devout family ... [and] That's precisely what will make Anna Was Here a moving-day classic, destined to sidestep its boxed-up brethren for the important job of steadying someone's shaky little hands."
"Liberally sprinkled with lists of tips for disasters ranging from earthquakes and floods to clouds and bees... An appealing mix of humor and substance. Ages 8-12."
"Anna's internal voice is pitch-perfect, and her pithy safety rules and ability to connect the dots between religion and life are often hilarious. ..." 'I'm not just a girl, you know. The angel Gabriel is basically my best friend.' "An amusing and richly rewarding tale that features a very likable, one-of-kind protagonist."
"Anna's safety tips on everything from rattlesnakes to clouds are sure to entertain readers ... this is a sweet book with a lot of heart."
"Anna was Here was a fun, entertaining, timeless story. Dare I say, it's a meat and potatoes book cloaked in chocolate pudding. They don't get any better than that!"